Access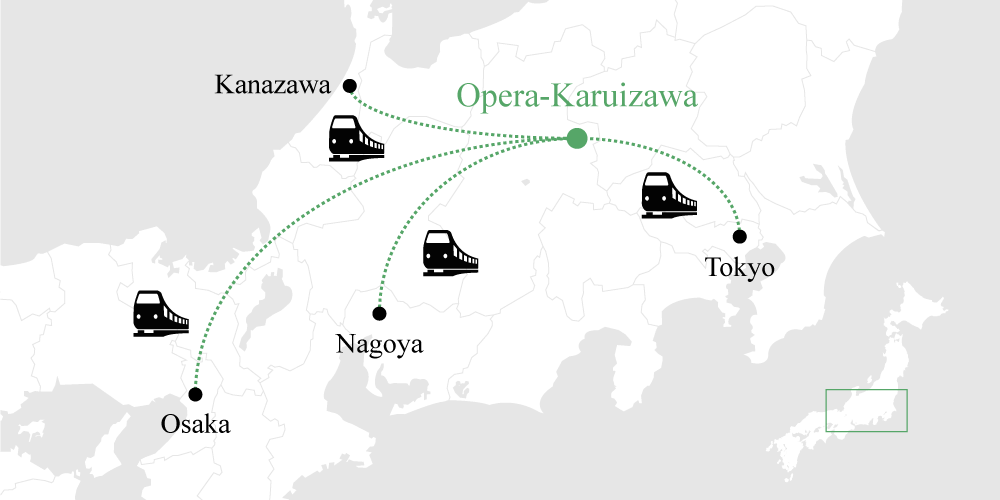 Karuizawa is in the eastern part of Nagano Prefecture, just about an hour from Tokyo station on the Hokuriku Shinkansen. It thrived as post station during the Edo Period and has been popular among foreigners since the Meiji Period. It is also known as a place John Lennon loved very much. Today it is still a famous resort town with many hotels and summer retreats. There are many historical tourist attractions, including the old Mikasa Hotel, and is also a great place to view cherry blossoms and fall colors.

Opera-Karuizawa is a resort inn surrounded by abundant nature where you can enjoy fresh green trees in the summer and brightly colored leaves in the autumn. Please soak up the natural beauty of each season at our inn.
Music is the concept of Opera Karuizawa. The theme of the interior design is music or opera. Baths are available for private bathing. Consecutive stays are welcome. Please let us know if you wish to be picked up at Shinano Oiwake Station on the Shinano Railway Line.

Please note:
* No children under the age of 12.
* Reservations for meals must be made in advance. Meals cannot be ordered upon arrival.
* Payment is cash only. No credit cards accepted.

Sightseeing
Especially popular among tourists are "Karuizawa Prince Shopping Plaza", one of Japan's largest shopping malls, and "old Karuizawa Main Street", a location with a remarkably wide range of gift shops and restaurants. In winter, you can go skiing at "Karuizawa Prince Hotel Ski Area". Meanwhile, "Hoshino Area" offers delightful hot springs, where you can enjoy Karuizawa's nature as well as shopping.
Three Reasons to Choose Opera-Karuizawa
Hospitality at Opera-Karuizawa "Omotenashi"

Opera-Karuizawa is a small, family-run pension hotel. Although the staff are not fluent in English, We do our best to provide a delightful stay, so tourists can feel free to ask for help. We are also able to help in terms of tourist information.

Home style meals

Dinner at Opera-Karuizawa is a French course meal. Please enjoy your meal under the charming candle light. Freshly baked bread is served alongside a plate of Karuizawa's fresh vegetables for breakfast. Please select your plan from: no meals, breakfast included, or breakfast and dinner included.
* Reservations for meals must be made in advance. Meals cannot be ordered upon arrival.

Like music hall in the woods

Opera-Karuizawa is like music hall located in the woods of Karuizawa. The interior of the music hall features music or opera-themed objects and decorations. They're all brought in from foreign countries by the owner, who leave the country every winter.